Thirteen suggestions for Conducting a Nonviolent Direct Action.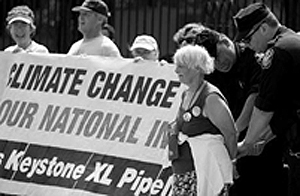 1. The goal of a nonviolent direct action is to get negotiations started when our adversary refuses to negotiate or to show unbending commitment when negotiations break down.
2. The ultimate goal of any direct action is reconciliation, not victory.
3. Any direct action must be planned and conducted to win the heart and mind of our opponent, not to terrorize, overwhelm, shame or force our opponent into submission.
4. A direct action is taken when we know no other way to end the impasse and to revive the discussion that will lead us to a third position we both can accept;
5. Although one individual alone may enter into a direct action, consider the greater good that comes by recruiting and training allies to stand with you;
6. Sometimes just in the act of recruiting/ training allies, the opponent is moved to reconciliation.
7. The primary principles of 'soul force' (truth, love, voluntary suffering) must guide our relationships with our allies as much as it guides our confrontation with the adversary;
8. Any direct action(s) we take must be as pure and as loving as the end we seek;
9. We refuse to participate in any direct action that involves physical violence;
10. We refuse to participate in any psychological or spiritual violence as well.
11. We will accept/absorb any suffering that results from our direct action without anger or retaliation;
12. We will do our best to take on ourselves any suffering that our direct action causes our opponent;
13. We will not fear (or seek) our own death but if death comes to us out of our quest for justice, we will accept it because we are confident "that death is not the end, but the beginning of life."