GUIDELINES FOR A CIVIL DISOBEDIENCE AND POSSIBLE ARREST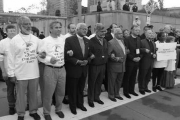 BASIC REQUIREMENTS:
If you are willing to be arrested in a Soulforce Action you must…
…Be 18 years of age or older
…Be a U.S. citizen
…Have no outstanding arrest warrants and not be on probation.
…Agree to follow the directions given to you by your squad leader.
…Sign, wear, and uphold the Soulforce "pledge to nonviolence" adapted from Dr. King, 1963
…Be able to keep your cool and remain silent even when people openly project hatred at you.
…Carry a photo and license or official ID.
THE POSSIBILITY OF ARREST IN NEW ORLEANS:
We've described our direct action in New Orleans (the march, the vigil and the possible civil disobedience at the Superdome) based on our current plans and our past discussions with the police. However actions can sometimes change at the last moment due to a variety of reasons not possible to anticipate during the action planning. However, barring unexpected developments this is what we expect to happen.
CHILDREN AND YOUTH:
No infants, children or youth under 18 may accompany you if there is even the smallest risk of violent confrontation or arrest.
If arrested, police are required to take a child or youth under 18 to a local social services office.
You may have legal difficulties regaining custody.
ARRESTEES AND THEIR SQUAD:
All arrestees must attend the special civil disobedience training.
After completing the training, you will be assigned to a civil disobedience squad leader.
We will have extra squad leaders ready to train last minute volunteers on site.
But these last minute volunteers will be questioned in detail by the leadership team to see if they are qualified to face possible arrest.
SQUAD ARRESTS:
The squads whose members have been specially trained in civil disobedience and arrest will walk together to the police line.
They will cross the line one squad at a time as directed by their squad leader.
Police will arrest one squad at a time and arrestees will be taken to a mass arrest processing locale.
INTERACTING WITH POLICE:
Show respect to the police at all times.
Our complaint is not with the police. It is with the untruths of our adversaries.
We have come to do a nonviolent action and the police are here to help us complete it safely.
Our behavior toward the police is one of many opportunities that Soulforce has to witness to our cause and to earn the respect of those around us.
RESPONDING TO ARREST:
Do not go limp.
Do not resist.
Any resistance is in violation of your Soulforce vows.
It will reflect very badly on Soulforce and could result in your being charged with a serious crime.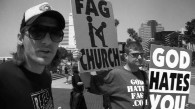 COUNTER DEMONSTRATORS AND THE MEDIA:
Counter demonstrators range from the silent to the openly hostile.
If you anger easily, you should not join the Soulforce Action.
This policy is both for your protection as well as that of Soulforce.
Hostile demonstrators (e.g. Fred Phelps family) seek media coverage.
Don't respond. It's exactly what they want.
IGNORE THE HOSTILES:
If you engage in any way by arguing or by yelling back insults of your own, or demonstrating your anger in any way, you will have lowered yourself and Soulforce to their level.
The encounter will end up on the evening news.
We can send a very powerful, positive message to the press and to the public if we ignore the hostiles and move forward with our nonviolent action peacefully.
NOT IGNORING THE HOSTILES MAY HAVE SERIOUS CONSEQUENCES:
Enforcement officers are watchful for the possibility of a major disturbance caused by the interaction of Soulforce with the hostiles.
If a physical disturbance begins for any reason, regardless of "who started it", the police have warned us that they will press much more serious charges against everyone involved.
It is therefore very important, as at all Soulforce actions, to keep your vow to avoid violence of the heart, tongue, fist.
If your squad leader decides that the action needs to end, follow the squad leader's orders without question.
CHANGING OR ABORTING AN ACTION:
Any changes to Action logistics will be relayed to squad leaders by one of the leadership team.
Each squad leader will have a two-way radio to facilitate communication between the senior leaders and the squad leaders.
Although we don't presently expect any counterdemonstrators who are openly violent, if the police see any potential for violence or a similar disturbance they will ask us to abort the action for our own safety.
The leader will make the final decision to abort (or not to abort) the action.
The squad leaders will be informed and will in turn inform your squad.
We don't expect this to happen but we want you to know in advance the possibility exists.
OPTING OUT OF A SOULFORCE ACTION WITHOUT SHAME:
If you feel uncomfortable with the action (or with your participation in it) you always have the option to walk away.
If you cannot in good conscience follow your squad leader's directions, walk away.
If you feel that your squad leader is asking you to put your personal safety in danger, walk away.
Soulforce is not an authoritarian organization that demands unquestioning obedience.
Use your common sense about your safety and the safety of others.
However, please do not argue with your squad leader or start a debate on appropriate action tactics.
Either follow your squad leader's advice or walk away feeling no shame or failure.
WARNING: Once arrested there is no longer a choice to opt out, because you will be in police custody.
CIVIL AUTHORITIES:
We have described our action in advance to the Washington D.C. Court under whose jurisdiction the arrests will take place.
The Court has not yet decided the charge in advance.
If the demonstration proceeds peacefully our expectation and theirs is that the charge will be a low-level misdemeanor with a fine of approximately $100 and no jail sentence.