SERIOUS QUESTIONS TO ASK YOURSELF
BEFORE MAKING YOUR DECISION
TO RISK (OR NOT RISK) ARREST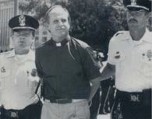 It is best to advise your Legal Chair – in advance — of any of these situations.
1) Those with outstanding arrest warrants:
People with outstanding arrest warrants will be treated differently.
They may be held for a long period and returned to the arresting jurisdiction.
People with outstanding arrest warrants should NOT participate in the arrest portion of the action.
2) Trans:
Typically, trans* folk are processed and jailed according to the gender stated on their ID.
A person whose valid ID is not the same gender as their appearance often faces special challenges.
The jail might require a change into jail clothing (including loss of wigs and/or under garments).
3) People taking medications:
There are potential problems for people taking medication!
IT HAS BEEN ADVISED THAT YOU NOT PARTICIPATE IN THE ARREST UNLESS YOU CAN DO WITHOUT YOUR MEDICATIONS FOR UP TO 20 HOURS.
Any prescription medications you will need should be left in its original container with clearly marked pharmacy label displaying your name, contents, doctor's name and dosage instructions.
It is recommended that you notify your squad leader, who will tell our Soulforce legal chair. Letter from your doctor could be very helpful.
4) Infectious Disease Status (HIV, TB, etc.):
If you inform the authorities that you have an infectious disease such as tuberculosis or an active HIV-related infection, you are likely to be separated from the others.
Be certain the Soulforce attorney is aware of your health status.
5) People with Disabilities:
Physically disabled persons may not be arrested at all, and are not usually placed in a cell with others who are arrested.
Sometimes special accommodations are made but don't count on it.
6) Stop Drinking Coffee a week or so before your possible arrest.
To suffer the first stage of caffeine withdrawal in jail is a very painful experience.
Nicotine withdrawal can also be a problem.
7) About toilets.
Know where they are.
Use them if possible before arrest. Another opportunity might not present itself for hours.
8) Do not bring valuables:
Bring only a picture ID, $100 cash, your name badge with your medical and contact information tucked neatly into the back of the plastic holder.
Don't wear rings, watches, necklaces, or other jewelry.
Wear comfortable but not showy or risqué underwear.
Just before arrest hand extra items like sunscreen, hats, layered clothing, copies of your case, maps to your squad leader.
9) Sun Preparation:
Be prepared for long hot waits in direct sunlight (Apply sunscreen before the action).
10). Dress for Cold Jails
Be prepared for long cold waits on the line or in jail.
(Wear layered clothing.)