GUIDELINES FOR RESPONDING TO SUDDEN UNEXPECTED VIOLENCE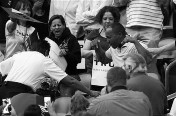 1. Most physical violence is preceded by or coincides with verbal violence. It is imperative that you prepare yourself to encounter both. And always refrain from responding violently (with fist, tongue or heart) to any and all violence.
2. In your voluntary redemptive suffering, your goal is to change hearts and minds through your non-violent response to your adversary's violence – both verbal and physical.
3. When we take a voluntary stand against injustice, we don't know how our adversaries will react. However they respond, we take on the suffering without complaint or retaliation and our adversaries will see our courage and witness our commitment.
4. Your non-violent response requires a "zero" reaction to the violence. Do not engage your adversary verbally or physically. Instead, focus mentally, spiritually and physically on the redemptive purpose of your suffering.
5. To help calm yourself focus on a specific point. Maintain a calm facial expression. Silently repeat words: ("love my enemies" or just "love.") You also may choose to pray or meditate silently.
6. If the violence ever becomes physical, it is crucial that you make no attempt to stop the attacker(s). (There is no redemption in forcibly stopping violence in this situation. It is our role to suffer on this small scale in order to demonstrate the greater suffering in our cause.)
7. HOWEVER you should immediately take measures to "shield" the vital areas of your body. Use your hands and forearms to protect your face. Bend your elbows and drop your arms to protect your ribs. If you fall or are knocked to the ground, stay there! DO NOT ATTEMPT TO GET UP! Instead, roll to your back and continue to use your arms as shields. Lying in a "fetal position" on your side leaves your spine vulnerable to serious injury.
8. When physical violence is directed toward another person in your group, you may choose to shield that person using your own body, absorbing his/her suffering yourself. Again, make no attempt to stop the attacker(s). Position your body between the victim and the attacker(s). Or stand and face the attacker(s) shielding yourself as described. Or face the victim and wrap your arms around him/her in a protective manner.
9. When two or more of you choose to shield one or more victims, it is effective to surround the victim(s) in a "huddle" arrangement, locking arms at waist level in order to better protect your own ribs. (Or surround the victim(s) facing the attacker(s).
10. When the violence stops, seek medical attention if necessary. Notify the action leader. Do whatever you need to do in order to renew your spirit and heal physically. Remember that your suffering has real purpose and is changing hearts and minds.