AVOIDING ARREST!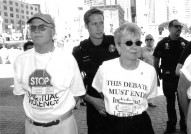 We are not protesting in order to be arrested. We are protesting injustice and if we are arrested we will follow procedures to avoid any violence of heart, tongue or fist towards our adversary or the police who arrest us.
Ecumenical Issues
• The stand that we are taking is in protest to ecumenical, not legal, systems.
• However, our actions will cause a real legal reaction if we proceed through all the steps of the Civil Disobedience.
Being Prepared
• We can have quite an impact on what happens to us while we are standing in support, being
arrested or detained, being processed, in jail, or in court — if we are prepared.
Maintain Solidarity
• Solidarity is, in reality, is a state of mind that unites us. It is our commitment to one another, to our common cause, and to our Pledge of Non-Violence. It is our dedication to support one another and to pursue our common goals at all times, in every situation, and to the best of our ability.
• In order to maintain our spirits and effectiveness, we must develop an ability to deal with the legal system while trusting in the solidarity of others in the group.
• In a large demonstration, we could get separated from each other, possibly isolating individuals. Make a sincere effort to stay in pairs and with your squad.
Non-violence Is essential
• Our approach to the legal system is up to each of us. But the Soulforce pledge is to be
cooperative, respectful and orderly.
• Our attitude and demeanor can be as important a part of our nonviolent civil disobedience as anything else.
• We must maintain the nonviolent attitude of honesty and directness for which Soulforce is noted while dealing with observers, law enforcement officers, the courts and others.