What Could Happen When You Are Arrested?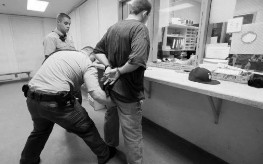 4th step: Transport
3rd step is on Page 42 – Warning, Arrest and Holding Area
Often those who are arrested will be taken to transportation vehicles.
Sometime you are asked to walk a short distance as a group to the police processing area.
Resistance of any kind during these steps is symbolic at best and will cost you more than you want to pay.
5th step: Processing and Booking
Most people who are arrested are placed in a holding area or asked to remain on a transport bus waiting to be booked.
Don't expect meals, drinks, phone calls, or bathrooms. Sometimes there are pay phones, so you may want to bring quarters, or your phone card #, and a contact phone #.
Typically you will be photographed, fingerprinted, asked to empty pockets and turn over property, and asked for info.
You are only required to give name, address, and 10. Usually Social
Security number is requested. It is essential to bring a current, government issued 10 for identification.
6th step: Action on your Case
The case may be resolved soon after processing.
Or you may be released after being given a summons or ticket with the charges and court date for later resolution of the case.
Or you may need to be arraigned.
If you wait in jail it will usually take 24-48 hours after being charged.
Or you can post bond to get out of jail more quickly but you may be required to return for arraignment several weeks even months later.  Choice:   To wait, or to post bond and get out of jail more rapidly.
Further Explanation of Arraignment
Appear before a judge and answer to the charges.
Within 24-48 hours after arrest a defendant who remains in custody will be brought into court for an arraignment.
If you post bond, you may be required to return for arraignment several weeks later.
At arraignment the defendant is read his/her rights and is informed of the charges.
At arraignment, each person (now called a defendant) will be asked how s/he pleads to the charges.
You can make one of several pleas, as shown below: You can request that charges be dropped, or dismissed.
Note: You don't need a lawyer for this and can represent yourself. But it is generally helpful to have counsel of your own choosing to guide you through the process.  Soulforce will have a legal representative available for the group. That person will have negotiated, in advance, about possible charges. There should be few, if any, surprises.