Someday you will be old enough to start reading fairy tales again. – C. S. Lewis
A Confession by the Author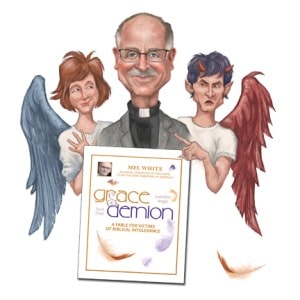 "During my teenage years I was told that my homosexuality was 'from the devil' and that being Gay would send me 'straight to hell.' Sixty years later well-meaning Christians still misuse the Bible to warn LGBTQ teenagers that their sexual orientation is 'from the devil' and that accepting themselves as they are will send them 'straight to hell.'
"If those same well-meaning Christians are so determined to misuse heaven and hell, angels and demons to scare LGBTQ teenagers into believing that God won't love them unless they "change," I'm equally determined to use heaven and hell, Grace and Demion to show my sisters and brothers that God has created them and loves them exactly as they are.
"Sixty–one years have passed since I first met Grace, the guardian angel of God's LGBTQ creations and Demion, her hunky little adversary. I was a thirteen-year-old Boy Scout experiencing my first  crush on another Boy Scout when they suddenly appeared in my life.
"I have to admit that six decades later there are still times I'm hassled by Demion. At the same time Grace has never failed me. Every day she reminds me that as an out gay man I am loved unconditionally by my Creator and just knowing that has made all the difference."
What Others are Saying About Grace and Demion
"Mel's book is lovely, touching. I was moved by it. It reminds me in tone and purity of The Little Prince. Grace and Demion could become a classic."
Frank Schaeffer author of "Why I Am an Atheist Who Believes in God"
"For us — the parents of homofolk — Mel White takes up where C.S. Lewis left off — giving us a bridge to God after all of ours built earlier in life lay in ruin."
G. Kenneth West, Ph.D., Professor of Counseling and Human Development, Lynchburg College in Virginia
"This intriguing fable would make an excellent animated movie or video –go for it!
Tony Campolo, Ph.D., Popular Speaker, Sociologist, Author, It's Friday but Sunday's Coming
"I was reminded of  The Shack.  A playful way to deal with a serious issue."
The Rev. Mendle Adams, Clergyman United Church of Christ, (ret.), New Testament scholar and seminary professor
"Brave and Innovative.  Amazing new way to bring hope to GLBTQ people rejected by family and friends because of those miserable Bible passages used to condemn them."
The Rev. Ken Martin, UFMCC Elder for the Western States and S.E. Asia (ret.) 
"Grace and Demion is so wonderful that I don't have adequate words to describe it.  I know I want at least 20 copies to give as gifts to special friends who badly need your words. 
Peggy Campolo, Activist, lay counselor and public speaker
"Brings to mind The Screwtape Letters especially when Demion is coached to whisper to God's queer children that they need to change."
Babs Conant, Ph.D.,   Long-time lesbian activist and supporter
"This story is heart-wrenching and healing.  The book took on an Aesop's fable imagery for me at the end."
Cindi Love, Ed.D., Executive Director, American College Personnel Association
"Enchanting.  Reminds me of the tender, magical landscape of a Richard Bach novel."
Lee Ellis, actor, singer-songwriter and composer
"Though they are totally different, it has a place alongside Dr. White's Stranger at the Gate."
Mike Herrington, Gay activist
"Took me back through my own sadness, grief, loneliness and finally jubilation for being true to myself. Grace and Demion will touch everyone who has gone through any persecution about their sexuality."
Nelson Rojas, Educator, Corona del Mar High School
"An absolutely brilliant concept to illuminate the corners of darkness in people's minds!  I was blown away by it.  What a source of comfort and help it will be in counseling LGBTs or their families.  I found it mind expanding!"
Harold Kameya, San Gabriel Valley API  PFLAG, Founder Asian Pacific Islander PFLAG
"Inspired, delightful and profound! This splendid fable speaks the truth, with both force and tenderness, about God's unconditional love and the inherent dignity and integrity of lesbian, gay, bisexual and transgender people."
Jimmy Creech, Pastor defrocked by the UMC for conducting a same-gender wedding, Author, Adam's Gift 
"Grace and Demon offers healing, hope and freedom to all of us who were taught in our childhood that we are sick and sinful. Helps us remember the painful challenges and re-claim our power as whole and healthy queer people! Thank you Mel!"
Bill Carpenter, long-time activist and supporter
"Grace & Demion is down to earth, yet communicates heavenly truth uniquely as only a beautifully structured fable can.
Dr. Calvin R. Schoonhoven, Professor, New Testament., Fuller Theological Seminary, (ret.)
"Being the mother of a gay son, I would have given any amount of money to have had a book like this to share with him when he first told me.  This story is told with such simple understanding but also with such wisdom only God can grant."
Faith Delk, Proud Mother of a gay son , Local organizer: Meals on Wheels, Habitat for Humanity. 
"This fable is not just about LGBTQ people. It's about humanity. It's about God who never stops loving us. I'm a gay Jewish man, but I would recommend it to anyone seeking a gorgeous jolt of hope, inspiration and true wisdom."
Ken Page, LCSW, Psychology Today blogger, "Finding Love," Author, Deeper Dating: How to Drop the Games of Seduction and Discover the Power of Intimacy
"My Bible-quoting Father didn't know that his son was busy building interior walls that hid my need to be a girl. How vastly more productive, loving, and happy my life could have flowed had I known that God created me exactly as I am … and that God had held me close a moment longer because the path to wholeness is difficult."
Judy Osborne, long-time Transgender activist
"I love it. So much truth spun in a very thought provoking and yet entertaining style. This will minister to the many harmed by Biblical intolerance and to those seeking with open hearts to understand what is happening to themselves and to those they love."
Jane Clementi, Co-Founder the Tyler Clementi Foundation
"An appealing, unconventional adult fable that uses a comic style for a serious purpose: The story is a moving allegory for Mel's own life and his brave struggle to free himself and other LGBT people from religious oppression."
Kittredge Cherry, author of Equal Rites and founder of JesusInLove.org
"Mel White is one of the most compassionate and insightful men I know.  Through his characterizations in Damien and Grace, may we find the path of greater compassion and insight into the lives of so many amazing and gifted individuals whose souls gently sway in the arms of a loving God.
Becky Kuhn, M. D. , HIV/AIDS physician and educator
"Grace and Demion combines the demon-in-training storytelling of Screwtape Letters with the real life suffering Satan's lies bring to LGBT. The triumphant news that The Creator loves the rich diversity of creation echoes through heaven and hell and will bring welcome news to many wounded Christians.
Rev. Julie Nemecek, long-time transgender activist
"Mel's God looks over the edge of Heaven and shouts to the earth, "I love my Queer Children!" Little angel Grace asks, "Do you think they'll hear it?" "They will," God answered, "if they are listening."  If you are listening to what Mel writes in Grace and Demion, you will hear it too.
The Rev. Steve Kindle, E.D. Clergy United, author, Marriage Equality, Blogger: Open Hearts – Affirming Pages 
"Gay people are not given myths through traditional culture with which we can explain our experience to ourselves. We have to create our own myths. Stories like Mel White's Grace and Demion (which I had the blessed opportunity to assist with editing) is a delightful and wise example of how to rearrange the old stories in order to create deeply meaningful, satisfying and revelatory personal myths."
Toby Johnson, author, Gay Perspective: Things our [homo]sexuality tells us about the nature of God and the Universe and The Myth of a the Great Secret: An Appreciation of Joseph Campbell 
"In his intensely autobiographical Stranger at the Gate, Mel White provided a compelling and eye-opening look at being gay and Christian and, perhaps most important, at the spirit-crushing challenges caused by churches and religious leaders with their misguided teachings about homosexuality. Now, with the imaginative fable of Grace and Demion, White imparts an important truth, that the 'still small voice' those Christians purport to hear may not be from the Master they suppose.
Diana G. Westbrook, M.A., ABC, Soulforce leadership team, 1999– 2005