For Conductors and Negotiators
– A Few Extra Tips for conducting more effective nonviolent direct actions and negotiations.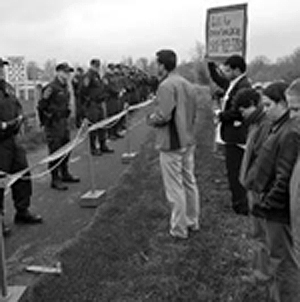 Be sure…that your Action is planned and executed carefully to win minds and hearts not to alienate friends and/or adversaries alike. Nonviolent Direct Actions have one goal: to prove to your subject that you are serious about getting him or her to negotiate with you. Your Direct Action must show that you are loving, sincere and determined not angry and revengeful.
Be sure…that your direct action will win people's respect, not make them hate or fear you more. If your adversary is a religious leader, would it help to march on the church, interrupt a service, spill the communion cup, or shout angry charges from the pulpit? NOT!
Be sure… that your adversary as been notified of your action well in advance. That news alone might cause your adversary to undertake serious negotiations. Be sure negotiations aren't used to delay justice. As Dr. King said, "Justice delayed is justice denied."
Be sure… that the media have been notified well in advance. It may also be wise to notify the authorities. Explain your case carefully and then respond honestly and frankly to the demands the police might make. Remember there were times Dr. King had to break good laws – trespassing, blocking an entrance, closing a street – as a part of his action against bad laws.
Remember…When negotiations begin, it is not what you "win or lose" that matters.
Reconciliation is your goal. Not some kind of triumph over your adversary.
Remember…You will change the minds and hearts of your adversary by the relationships you establish while negotiating. As Gandhi said, "Be the change you want to see."
Remember…Your adversary may be afraid to meet with you the first time. You become the TRUTH. You are the case you bring. Facts will not change minds and hearts. The change comes in knowing you. Be sure you decrease, not increase, your adversary's fear.
Remember… Monitor your adversary's actions after the negotiations end. If the adversary follows through on your agreed solution, show your appreciation; but if the change is not adequate or even non-existent, restart negotiations even if another direct action is necessary.