PLANNING A NONVIOLENT DIRECT ACTION (Part 1)
FOR EXAMPLE: A NONVIOLENT VIGIL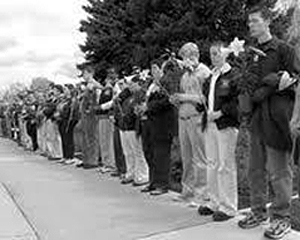 Introduction: The keys to planning and coordinating any event are legwork, follow-through and communications. An early and important decision that the group should make is what type of direct action would be most appropriate.
For example if you are planning a vigil, will it be a silent vigil, a prayer vigil, a vigil with a few speakers? Will you have a banner expressing your issue clearly and yet succinctly or individual signs for each person on the vigil line with a similar goal? Will you have a "Why We Vigil" case to distribute to spectators, the media, city officials, location authorities, etc.?
Finding and Visiting the Site:
1. The group should decide upon an appropriate site for the vigil. Make sure it's a site with sufficient traffic or passers-by.
2. The decision on the site should include discussions on the site's (1) symbolic value, (2) accessibility and (3) media appeal.
3. Notify the chief of police to let him/her know that you are planning a vigil for that site. Offer to meet at his/her convenience. (Sample letter follows).
4. Follow up with any permits and/or special permissions that may be required.
5. If the site is "off limits," choose another and follow the same steps; in no circumstances should you just "do it anyway;" however if the site is key to your action and it's worth risking an act of civil disobedience and arrest that requires extensive extra preparation (examples follow);
6. Make sure to coordinate with the police to properly "choreograph" the vigil. Be sure to make it clear to the police that you are NOT asking them to facilitate or even participate in what one of our critics called: "media driven street theater."
7. You might be planning just such an action but the police must know that you are NOT asking them to assist or cooperate or participate in any way. You are notifying them only to allow them to prepare for maintaining public safety and whether you abide by the rules or not abide by them, your action will be NONVIOLENT from beginning to end.
8. After the site is chosen and permits obtained as necessary, brainstorm problems or challenges that the site may present.
9. Send a follow-up letter to the chief of police, thanking him/her for the meeting and promising to stay in touch if changes occur.
10. If the site chosen for the vigil is private (e.g., church) property and not public (e.g., park) property, follow the same steps to obtain appropriate permissions.