PROTEST THE EXTREMIST'S WAR ON THE POOR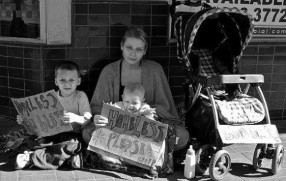 More than 46 million Americans live below the poverty line, including 16 million children.
According to the U.S. Census Bureau, poverty is earning less than $11,945 per year for a single person and $23,283 for a family of four.
Nearly a quarter of people in poverty have jobs, but their pay is so low that they still don't have enough money to meet basic needs like food, shelter, clothing and health care.
Women are more likely to be poor than men.
African-Americans, Latinos and Native-Americans are more likely to be poor than whites.
Republican Extremistscut Food Stamps
The cut to food stamps will be about $800 million per year or $8 billion over the next decade. The Congressional Budget Office estimates they will impact about 850,000 households.
A House-passed bill cut $20 billion from SNAP over 10 years, while the Senate's legislation cut $4.1 billion over that same period.
Refused To Extend Unemployment Insurance Benefits
1.3 million workers have been without jobless benefits since December 28, 2013. Most of the long term unemployed are having an extremely difficult time in finding jobs; Most long term unemployment takes an extreme toll on people's health and wellbeing; and, these These benefits are a key source of income for millions of people.
Refused To Raise The Minimum Wage
Hiking the federal minimum wage to $10.10 an hour would save $4.6 billion in food stamp that it would also increase GDP by roughly $32.6 billion and create approximately 140,000 new jobs. Benefiting 15 percent of the American workforce, such a hike would lift almost a million workers out of poverty.
Denied Health Insurance
Twenty-one Republican dominated states have rejected the expansion of Medicaid leaving about five million people without health coverage. If one is below 133 percent of poverty, there is no subsidy and no funds to help until they are poor enough to meet current Medicaid requirements, i.e. 100 percent of poverty. Thousands of those left out of coverage are veterans. Extremist Republicans in Montana opted out of Medicaid expansion leaving 70,000 Montanans in that gap without access to health care.