A CASE STUDY FOR TRAINING SQUAD LEADERS (Part 1)
How we trained squad leaders for a Soulforce direct action in New Orleans

Recruiting and Training Squad leaders is a key element to a successful action.
SQUAD LEADER'S ROLE
We are asking you to shepherd a group of volunteers through the Soulforce action in New Orleans:
There will be
a.) Vigils,
b.) A funeral procession behind a New Orleans Jazz Band with a casket carrying true stories of GLBTQ Southern Baptists, and
c.) The possibility of civil disobedience and arrest when delivering the casket to 12,000 national delegates inside the Superdome.
You and your squad will be scheduled to vigil together at various times to present our case against the homophobic rhetoric of the Southern Baptist Convention. During the funeral procession we will mourn and applaud together. Then some especially trained volunteers will attempt to enter the Superdome carrying the casket. You will be responsible for ensuring that your squad carries out the actions according to our NONVIOLENCE VOWS and other on-site directives in a safe and loving manner.
SQUAD FORMATION
Squads are a place for recruitment and retention for volunteers beyond a particular direct action. You will be meeting your squad during the first training. Please sit near the front of the room so you can easily stand and be seen when the squads are forming. Make sure you bring your squad number card with you. You will receive an arm band to wear that indicate you are a squad leader. Please wear these at all times.
At the first training our vigil director will give a brief explanation of our squads and their function. Then you will be asked to come to the front of the room. Please find a spot to stand that allows folks to see you and to gather around you. Each squad is numbered. Hold your bright squad number high so folks can see it. Make sure you are not too close to another squad so you have some room to gather.
WHEN YOU FORM YOUR SQUAD
1. Introduce yourself to your squad and tell them a bit about yourself and your understanding of your role as a squad leader. Then invite the others to introduce themselves. As they speak check their names on your lists. Make sure that all those on your squad list are present. Have each person put his/her local phone number on each of the two copies of the squad list sheet. You will keep one copy and give the other to the vigil director. If more folks are added to your group we will both make the additions.
2. Be sure you have a copy of those phone numbers and that everyone knows where and when to meet for your next vigil/meeting time. Tell them how to find you easily. Give them your local cell number. If you do not have a cell phone, see if one of your group members has one and if you can borrow it or if they will be responsible to be the contact person for your group. Put that name and phone number on your squad list at the bottom. The one with the phone needs to be available and able to relay messages to squad members should plans change or the leadership team needs to contact you. At least one of the squad leaders needs to be easily accessible by cell phone.
3. Make sure that all have the black armband for the funeral procession.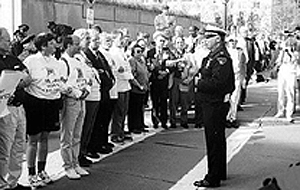 4. Ask squad members if they have decided to participate in the possible civil disobedience and arrest. Those who are MUST attend the civil disobedience training on legal and potential violence issues and be asked again if they are certain they can handle arrest and detention process.
5. All registrants will be required to fill out personal information cards in order to get a t-shirt. Make sure your squad members have this t-shirt and be sure to double check that they have filled out this card-it asks for medical information that you will need.
6. Before the action, those who are willing to be arrested must have a signed nonviolence pledge, $100 cash, a written description of any medical needs and a picture ID with them at all the times.
7. Ask all squad members to print the on the back of their name badges: next•of-kin, relationship, contact number and any medical information that would be important in case of emergency.
8. Ask squad members to come to Action Central with sunscreen, hats, rain gear, layered clothing (for cold weather), Soulforce shirts, name badges, and any water or food they may need. Participants should eat and use the toilet before they arrive on the vigil or march locations. Tell folks to become as centered as possible before they arrive at any Soulforce activity.
9. You may want to arrange for other times to meet-to eat together, get to know each other better, etc. Please be aware that some folks may be coming to their first Soulforce event and may not know anyone else. Let's be sure to extend the hand of hospitality that will help them feel included and an important part of this important action. Please try to eat together at the Soulforce events.
10. Make sure that everyone knows to wear their Soulforce shirt to all the actions (in cold weather over their heavy shirts or jackets (that's why larger sized shirts are optional). Help them understand why it is so important to conduct themselves in a loving, non•violent, respectful way to all. We will not break any laws with the exception of the civil disobedience. This means we keep all traffic and pedestrian laws. You might gave squad form into twos for a buddy system that helps keep safe from potential violence.
11. Ask if there are questions about anything they have heard so far. Answer the questions or ask for assistance from any of the leadership team. Give folks suggestions about what to think about or focus on during the vigil. Remind everyone that things can change any time and often do quite unexpectedly.